Add elegance and texture to your Christmas tree by making these woodgrain tree ornaments.
This post was originally published in 2011 and updated in 2019.
These woodgrain tree ornaments are by far my favorite ornaments on the Christmas tree. I love the texture that the woodgrain stamp adds to the clay! For the original ornaments, I used a salt dough recipe, which is included in this post. I made the salt dough trees in 2011 and they still look beautiful eight years later. For the update, I recreated these ornaments using air-dry clay, which also turned out gorgeous!
THIS POST CONTAINS AFFILIATE LINKS MEANING IF YOU CLICK ON ONE AND MAKE A PURCHASE, THIS BLOG MAY RECEIVE COMPENSATION, AT NO ADDITIONAL COST TO YOU. PLEASE SEE THE POLICY PAGE FOR FULL DISCLOSURE.
SUPPLIES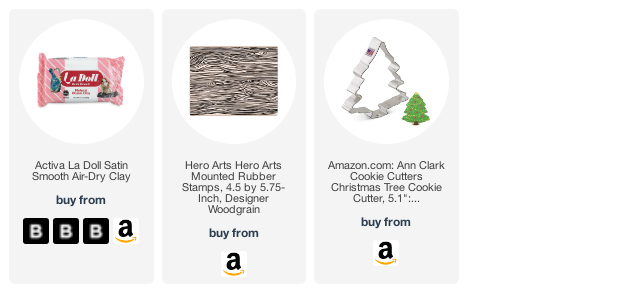 I've been seeing a lot of salt dough ornaments on the internet lately and I have to admit, they look a lot cooler than they did when I was in kindergarten. Lots of shapes, different kinds of paint and texturizing with rubber stamps. Salt dough is super easy and cheap to make and most likely you have all the ingredients necessary in your kitchen.
It's no secret around here that I love woodgrain. It just looks so..natural. So I decided to combine the two and make some woodgrain textured ornaments. This large woodgrain rubber stamp is fantastic and leaves a great imprint on the clay!
Woodgrain Tree Clay Ornaments
Total Time:
1 day
10 minutes
Materials
Instructions
Lay wax paper out on flat surface.
Grab a handful of clay and knead between hands so that it becomes warm and more pliable.
Roll out clay evenly to about 1/4 inch thickness.
Press woodgrain stamp into the clay to leave an impression, making sure to press evenly in the middle and all sides. If it doesn't stamp evenly the first time, go over with the rolling pin and smooth it out and try again.
If your cookie cutter is larger than the woodgrain stamp, you can overlap the stamped area to increase the woodgrain impression.
Press your cookie cutter into the clay. Do not remove.
Use the coffee straw to make a hole at the top of the tree.
Remove the extra surrounding clay from the cookie cutter.
Gently remove the cookie cutter.
Use a damp finger to smooth any rough edges.
If using air-dry clay, take tree ornament and let dry on a flat surface. To prevent edges from lifting up, flip ornament on to other side every few hours.
Notes
If using salt dough, the ornaments can be placed on a cookie sheet in the oven for a couple hours at 200°, turning them over every 30 minutes or so. Then leave them out overnight. The ornaments take a couple days to completely dry.
DO NOT PUT AIR DRY CLAY IN THE OVEN. It will ruin the ornament and could be flammable.
Recommended Products
As an Amazon Associate and member of other affiliate programs, I earn from qualifying purchases.
Pin This For Later