Create this stunning dried orange wreath using fresh oranges and eucalyptus sprigs to add color to your winter decor.
Happy 2015 friends! The last time I left you we were neck deep into the holidays. Now that Christmas is put away (mostly) I usually feel the winter blues set in. For the first 24 hours after the tree is gone it feels like there is suddenly all this space in the house. It's crazy. But then things start to feel empty. The shiny paper, the colorful lights…all gone. The doldrums are even worse if you reside in a part of the world where it's cold, snowy, wet or dreary. Here in the desert, we have mostly clear skies, but it does get cold. Real cold. I even saw snow flurries one day. I kid you not!
One thing Arizona has to brighten the winter is citrus trees. Lots and lots and lots and… (you get it) of citrus trees. Aren't the colors of the oranges and the leaves beautiful against the blue sky?
Since moving to the desert, the plethora of citrus represents January to me. I get ruby red grapefruit from neighbors, oranges and lemons from some friends. I still need a lime hook-up though.
I decided that I need to bring some of the bright citrusy colors inside for January and what better way than on a wreath. Drying oranges is really easy. It does take time, but that just the oven doing the work.
When dried the orange slices should look like stained glass when held up to the light. The color is beautiful. To help the oranges last a little longer I sprayed some clear enamel finish spray paint on them. After a few weeks the oranges will start to darken, but by then it's time to make a new wreath!
THIS POST CONTAINS AFFILIATE LINKS MEANING IF YOU CLICK ON ONE AND MAKE A PURCHASE, THIS BLOG MAY RECEIVE COMPENSATION, AT NO ADDITIONAL COST TO YOU. PLEASE SEE THE POLICY PAGE FOR FULL DISCLOSURE.
Suggested Supplies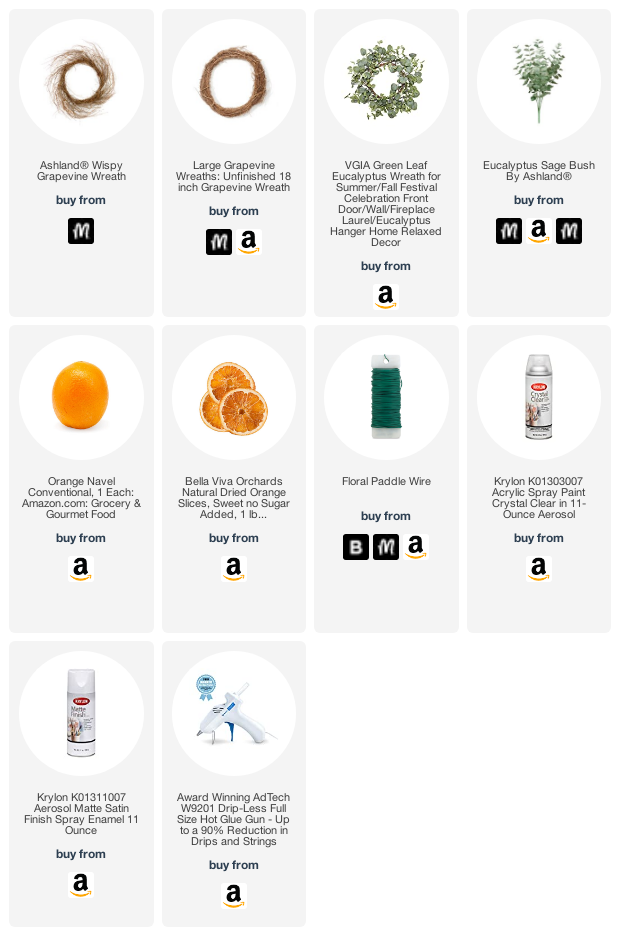 Directions for drying orange slices:
Cut your oranges into slices about 1/4 inch to 1/3 inch thick.
Press a paper towel in them to soak up some of the juice.
Lay them out on a cookie rack or cookie sheet.
Place in a 200° F oven for about two hours.
Turn them over every 15 – 20 minutes.
Keep an eye on them, especially the smaller slices so that they don't burn.
Using a hot glue gun, glue the oranges on to a grapevine wreath. (This is the same grapevine wreath that I used in this post. I tend to take apart my wreaths and reuse the forms.) I then stuck dried eucalyptus around the edges. I wanted fresh eucalyptus, because it lasts so long, but my farmer's market didn't have any when I went.
This wreath is perfect for adding some color to the winter blahs!