This shop has been compensated by Collective Bias, Inc. and Conagra Brands. All opinions are mine alone.#reddiforfall #CollectiveBias
It's fall and one of the best things about fall is that there is pumpkin flavored food everywhere! This recipe for Pumpkin Roll French Toast Muffins can be made ahead of time and is perfect to serve for breakfast, brunch or even dessert!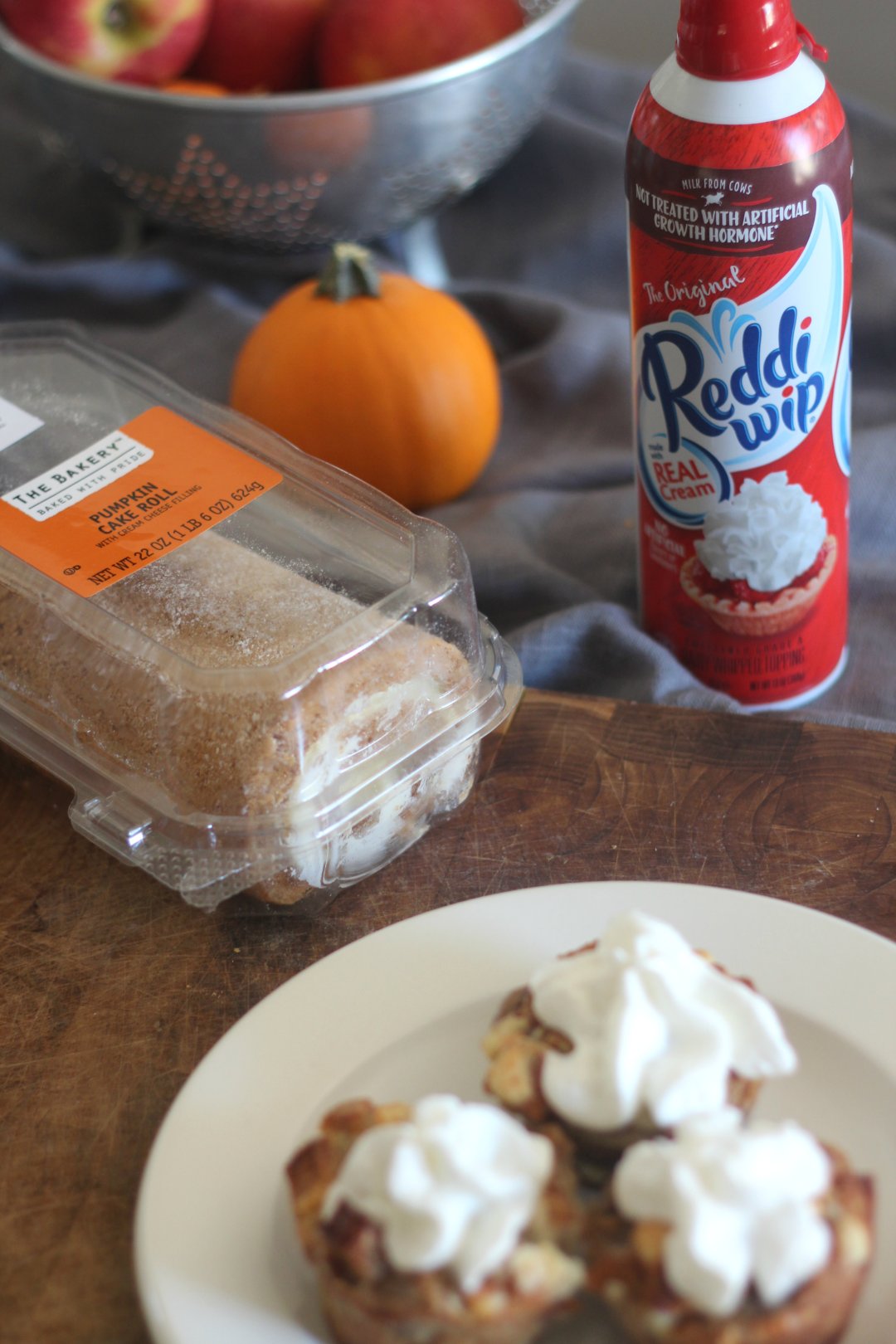 Click the image above to shop for the products online at Walmart!
I love all things pumpkin during the fall. There is nothing better than the smell of something baking with pumpkin and pumpkin spice. It brings thoughts of crisp air, colorful leaves, and warm scarves. You know what else I love? I love brunch. I love big meals with great people. These Pumpkin Cake Roll French Toast Muffins are perfect for brunch. It's a little bit of breakfast and a little bit of dessert in each bite. Amazing right!?!
The Bakery at Walmart Pumpkin Cake Roll with Cream Cheese Filling is perfect for this recipe since it is already prepared and it has a gooey cream cheese filling that adds bites of sweetness to the french toast muffins! Grab some Reddi–wip®, eggs, vanilla, sugar and half-and-half and cinnamon for the recipe while you are at Walmart.
The Pumpkin Roll is easy to find at the store. It is located in the middle of the dairy section, conveniently right next to the Reddi-Wip!
Craving more pumpkin roll inspired recipes? Yes! Well then click here!
Slice and dice the Pumpkin Roll and fill the cups of an already greased muffin tin. A whole roll will easily make twelve muffins. Pour the egg mixture on top of the Pumpkin Roll pieces, filling almost to the top of the cup. Gently squish the cake pieces down, so they soak up the egg mixture. Cover the muffin tin and let sit in the fridge for at least two hours.
After the Pumpkin Roll has absorbed a lot of the egg mixture, bake in a 350F degree oven for 25 minutes. Remove from the oven and let cool. These pumpkin roll french toast muffins are great warm, but taste really good cold too! Of course, be sure to top them off with some cold Reddi-Wip and maybe a sprinkle of cinnamon or nutmeg!
Pumpkin Roll French Toast Muffins
Total Time:
2 hours
40 minutes
Ingredients
1 Pumpkin Cake Roll
1 cup milk
1 cup half and half
6 eggs
1/2 cup granulated sugar
1 tablespoon vanilla
1 teaspoon cinnamon
Reddi-Wip
Instructions
Dice the pumpkin roll into 1/2 inch cubes and divide evenly into the twelve cups of a greased muffin pan.
In a large bowl, whisk together eggs, milks, granulated sugar, vanilla, and cinnamon.
Using a measuring cup, pour approximately 1/2 a cup of egg mixture over the pumpkin roll in each muffin cup. Gently press down on bread, to help saturate it in the egg mixture.
Cover and set in fridge overnight or at least 2 hours.
Once ready to bake, gently press down on bread again. Bake in an oven preheated to 350F for 25 minutes.
Remove from heat and let cool for 5 minutes prior to serving.
Serve with a dollop of Reddi-Wip! Tastes great either warm or cold!
Don't they look delicious? Be sure to grab your Pumpkin Roll and some Reddi-Wip at Walmart and try out all these fun recipes!
PIN THIS FOR LATER