Make these clear colored alcohol ink ornaments in any color you choose with this simple tutorial!
I'm still so in love with the wreath that I made for this holiday season. The blues and whites are much brighter than last year's black Christmas tree and trees of previous years.
THIS POST CONTAINS AFFILIATE LINKS MEANING IF YOU CLICK ON ONE AND MAKE A PURCHASE, THIS BLOG MAY RECEIVE COMPENSATION, AT NO ADDITIONAL COST TO YOU. PLEASE SEE THE POLICY PAGE FOR FULL DISCLOSURE.
Making the turquoise and indigo clear ornaments took just a couple of supplies, and you too can make your own clear ornaments, in a variety of colors to match your holiday theme!
It's Day 6 of the 12 Days of Christmas Blog Hop…Handmade Ornaments! Be sure to scroll down and check out all the other amazing ornament projects!
So for this project, I prefer to use clear glass ball ornaments. I felt like it took the alcohol ink too long to dry with the clear plastic ball ornaments., and although it worked most of the time, the glass ornaments looked better overall.
I love alcohol inks! Just be sure to wear plastic gloves and use them in a well ventilated space. Here are the colors I used for these clear color alcohol ink ornaments. Turquoise Alcohol Ink (in a set with complimentary colors) and Indigo Alcohol Ink (in a set with complimentary colors)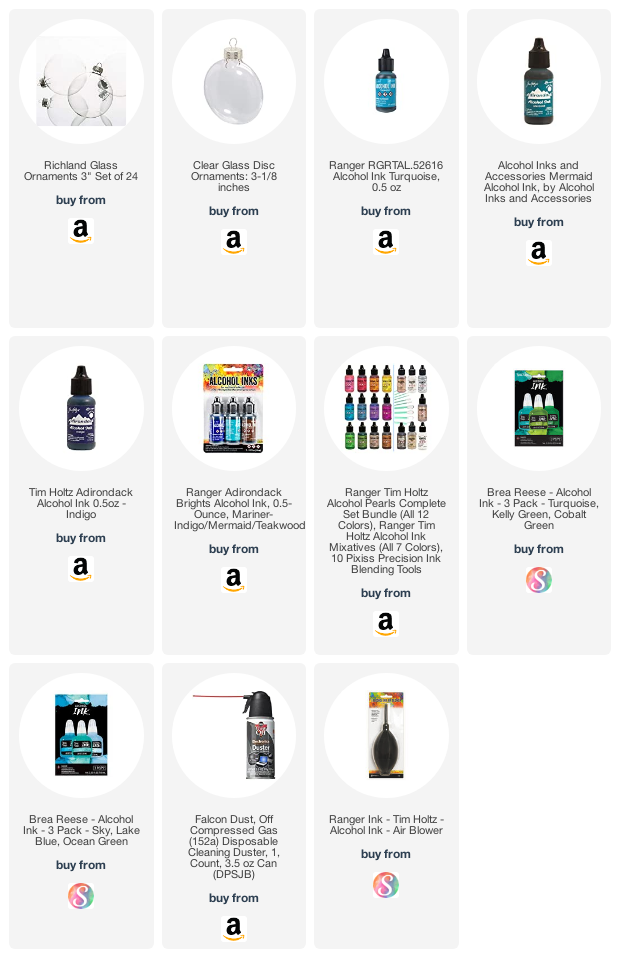 Yield: 20
Clear Color Alcohol Ink Ornaments
Active Time: 10 minutes

Total Time: 10 minutes

Difficulty: easy

Estimated Cost: $20
Materials
Box of clear ornaments, glass preferably
Alcohol Ink, any color
Can of air
Instructions
Make sure you are in a well ventilated area.
Remove the top of the ornament and pour 5 or 6 drops of alcohol ink inside.
Swirl it around a little bit, then use the can of air to spray the alcohol ink around, using short bursts of air.
Add more alcohol ink if needed and repeat with the air.
Set upside down to dry.
Welcome to Day 6 of the Fourth Annual 12 Days of Christmas Series!
It's Day 6 and we are sharing DIY Ornament Ideas!
Scroll down for many more DIY Ornament Ideas for your holiday season!
---
PIN THIS FOR LATER