Making unique and abstract prints on a gel plate is such a fun way to create art. Here are the basics to get you started!
Gel plate printing has been around for some time now, and I am only now learning to play with this art form, and it's so much fun. I wanted to create unique backgrounds for my lettering and brush calligraphy, as well as creating colorful pages for my planner. I didn't realize that I would fall in love with creating on my gel press…so much that I pull it out everyday.
Be sure to check out https://www.instagram.com/jessaletters/ where I post lettering, gel press prints and crafts daily!
THIS POST CONTAINS AFFILIATE LINKS MEANING IF YOU CLICK ON ONE AND MAKE A PURCHASE, THIS BLOG MAY RECEIVE COMPENSATION, AT NO ADDITIONAL COST TO YOU. PLEASE SEE THE POLICY PAGE FOR FULL DISCLOSURE.
What you need to start gel plate printing
Now For The Fun Stuff
Once you have the basics for gelli plate printing listed above, you can start looking around the house for items that will make imprints or create texture on your prints.
Circles There are plenty of things around the house that will make circle imprints on the gel press. The cardboard roll from a toilet paper tube, lids from any food container, rims of cups…There are so many possibilities for making circle imprints.
Textures Bubble wrap makes for fun little circles, or bubble like textures. I found some grippy shelf liner in the back of a cupboard which makes a fun texture. I found this net like piece of plastic, which was originally a liner in a take out pizza box, and it is perfect for gel printing.
Stencils There are plenty of stencils on the market made specifically for gel printing, but you can use any stencil, or better yet make your own! I have cut shapes out of card stock, using my die cutting machine, my Silhouette and just cutting by hand. The more you use them and the more layers of paint that dry on the card stock stencils, the sturdier they become. You can also cut them out of stencil sheets, for a sturdier stencil.
Stamps Pull out those rubber stamps to make fun designs on the gel press! These jumbo fall leaf stamps that I haven't used in years and they were so fun to make prints. Large texture stamps like the one I use for the Woodgrain Tree Ornaments are also gorgeous when monoprinted with the gel plate!
Combs and texture plates Yep, use combs with the paint on the gelli plate to make fun squiggles and designs. While you can use the plastic combs for your hair (very gently, you don't want to push them into the gel plate!) there are a ton of combs specifically made for the gelli plate which can create all different kinds of textures.
Making your first gel plate printing
Okay, so this part can be intimidating, at least it was a little for me. I had watched a ton of videos on YouTube, read a bunch of blog tutorials and followed all of these amazing gel printing artists on Instagram. While there is a ton of instruction and inspiration out there, the best way to learn is by playing. Playing with the amount of paint, creating layers and masks and learning how fast your paint will dry on the plate…these are all things that you will learn by experience.
I suggest grabbing two or three colors of paint and start with a few drops of each on the gel plate. Press your paper into the plate, smoothing the paper with your hand (sometimes it helps to put a large piece of waxed paper over the printing paper so that you don't get paint all over your hands and the back of the print.) Let that dry and do it again with another paper.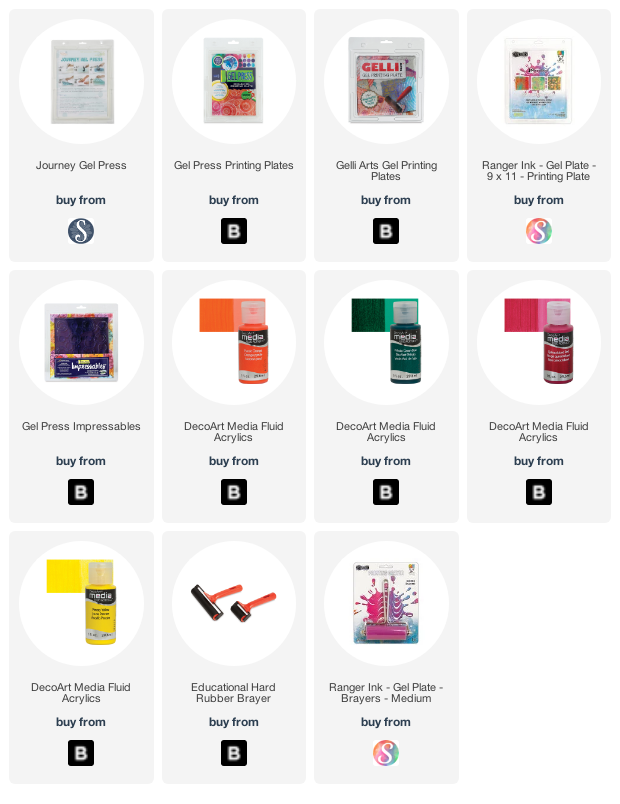 Some of my favorite prints are the ones that pick up the paint remnants from previous presses. These are usually my last prints before I clean the press and put it away. I lightly add paint onto the plate and press the paper on, focusing on the edges, to pick up the bits of paint that remain on the plate. I love the grungy look of these pieces, and they are great for adding lettering or other art in the middle.
Other posts you will love:
Pin This For Later