Use stamps and different colored blue foiled papers to create this notebook cover that resembles blue tiles.
THIS POST CONTAINS AFFILIATE LINKS MEANING IF YOU CLICK ON ONE AND MAKE A PURCHASE, THIS BLOG MAY RECEIVE COMPENSATION, AT NO ADDITIONAL COST TO YOU. I AM PART OF THE RINEA DESIGN TEAM AND SOME PRODUCTS WERE PROVIDED FOR THIS POST. PLEASE SEE THE POLICY PAGE FOR FULL DISCLOSURE.
When I first saw the Rinea Shades of Blue Foiled Glossy Paper Pack, I loved how the different blues looked together. They instantly reminded me of old Mediterranean tiles. You know the ones that are old and chipped and all slightly different yet beautiful.
Use code SPARKLE to save 10% off of your Rinea foiled paper order.
I found these tile stamps from Altenew that are designed after Moroccan tiles and they are gorgeous. I knew they would be perfect with the Shades of Blue foiled paper.
The cool thing about the Rinea foiled paper is that you can get the Ghost Ink Pad, which is like a stamp pad, but it makes the color disappear, like a ghost! All you need to do is stamp the Ghost Ink onto the foiled paper, wait a few seconds and then wipe it off with a paper towel. Just like magic, you get a fun image! I highly suggest using a stamping platform, so that you get crisp stamped images.
Once you have stamped the tiles in all four colors onto the blue foiled papers, cut out the individual square tiles. You can use a paper cutter or just scissors, it isn't meant to be perfect.
Rip a piece of deli paper along the edge of a table, so you have a straight tear. Tear it so that it is slightly smaller than the notebook cover. Use a decoupage glue to adhere the deli paper to the cover. A brayer helps to make it flat. Adhere the foiled paper tiles to the notebook cover, making sure to alternate the different blue colors and different tile designs. A permanent tape runner works well for this.
Lastly, add a sentiment by using a strip the gold side of the blue foiled paper. I wrote 'notes' using a white gel pen, since it's a notebook, but if you are making a card you can write anything.
And there you go, you have a pretty notebook cover in gorgeous glossy shades of blue!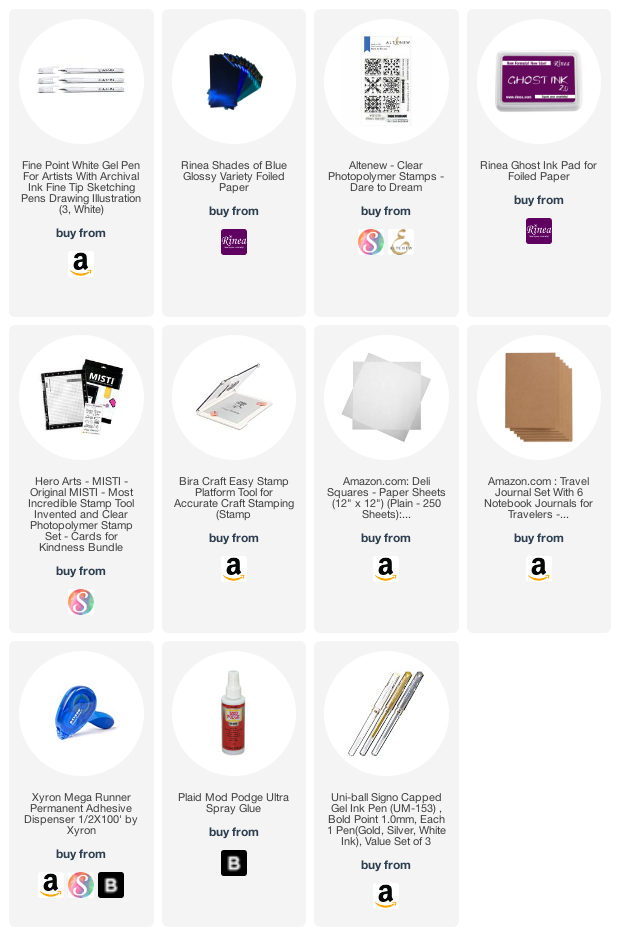 Pin This For Later
Other Crafts You Will Love