Grab your craft cutter and adhesive vinyl and create this stunning poinsettia design on an enamel sign. This sign is perfect for Christmas decor or giving.
If you saw my Joyeux Noël tin sign I created earlier this week (SEE IT HERE) then you know that I am knee deep into creating for Christmas. It is definitely my favorite holiday and I love the entire season.
I created this big, bold, poinsettia sign after finding these 12 x 12 enamel tin blanks at the craft store. I love the black outline and how they have a bit of a rustic, farmhouse look. Mixing that with the modern and bold poinsettia is stunning and dramatic. I made three signs, all similar but slightly different.
THIS POST CONTAINS AFFILIATE LINKS MEANING IF YOU CLICK ON ONE AND MAKE A PURCHASE, THIS BLOG MAY RECEIVE COMPENSATION, AT NO ADDITIONAL COST TO YOU. PLEASE SEE THE POLICY PAGE FOR FULL DISCLOSURE.
Supplies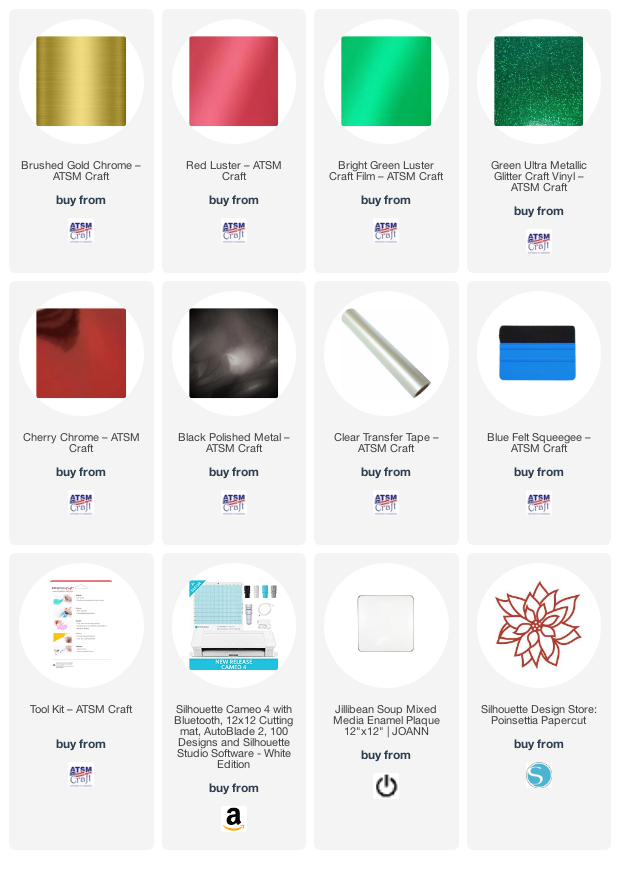 Instructions for Making Poinsettia Sign
Use glass cleaner or rubbing alcohol to clean off sign.
Using the software for your craft cutter, increase the size of the poinsettia design. Mine is 10 x 10 inches for the 12 x 12 inch sign.
Cut design out on the adhesive vinyl. I did one of them in the gold, one in each of the reds and greens and one in the black. You will need to create a couple more if you are doing multiple signs.
Weed out the leaves of the poinsettias, saving them on a piece of waxed paper or extra vinyl backing if you have some.
I found it easiest to place each leaf by hand on to the poinsettia outline. For the outer leaves, I alternated the Bright Green Luster and the Green Ultra Metallic Glitter Vinyls.
For the inner leaves, I chose one of the reds for the inside and a different red for the middle section.
Once all the leaves and flower stamens are placed on the outline, cut a piece of transparent transfer tape and use it to peel the whole design off the adhesive vinyl backing.
Place design on to enamel tin sign, and starting from the middle, press the vinyl on to the sign, smoothing it outwards to avoid any air bubbles. It was easy to peel up any individual leaves and replace to get the bubbles out.
Pin This For Later
More Christmas Ornament Crafts