Create this gorgeous Joyeux Noël tin sign with festive holly and pretty script, using an enamel tin blank and vibrant adhesive vinyl.
Let the winter holiday crafting begin! This fun shaped blank enamel tin sign was calling my name at the craft store the other day. Well actually it was screaming to me, in French of course. I have my minor in French, and sometimes I still have dreams in French. Mais oui!
As part of the StyleTech Craft 2021 -2023 design team, this post has been sponsored by Styletech Craft. Compensation and product have been provided to me for the purpose of this post. This post also contains affiliate links, meaning that I might receive a small commission if you click on a link and purchase, at no cost to you. All ideas and opinions are all my own.
Joyeux Noël is the French equivalent of Merry Christmas and it is so pretty in this script that I found in the Silhouette Design Store. The holly is also found on the design store. It's by Nik Squirell, who's designs I just adore. I also used her designs on the Floral Champagne Flutes I created a few months ago!
To make the Joyeux Noël Tin Sign extra festive, I used a mix of different types of adhesive vinyl. The Green Ultra Metallic Glitter vinyl sparkles and shines and the red and bright green luster add great depth of color to the little holly sprigs.
SUPPLIES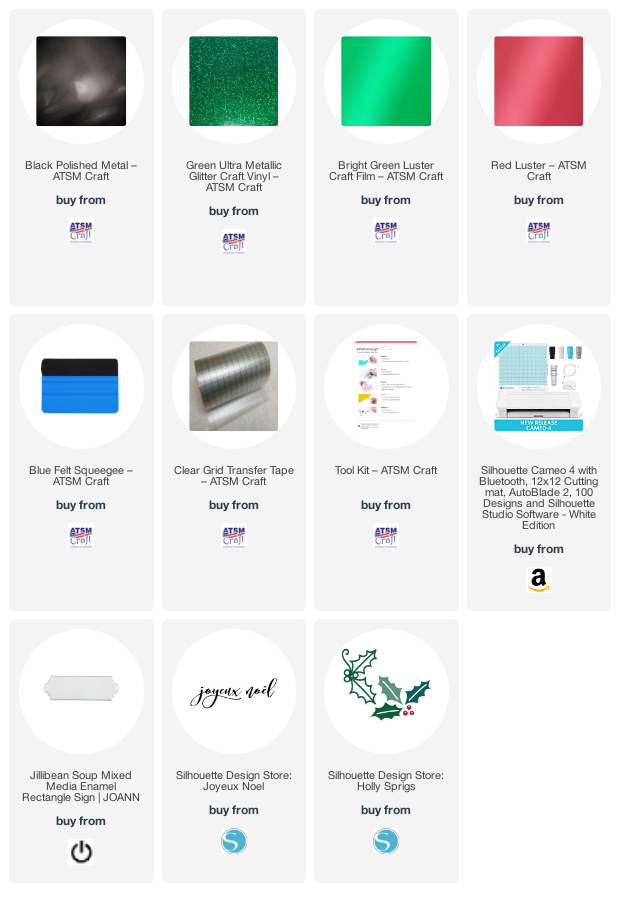 Instructions for Joyeux Noël Tin Sign
Prior to cutting out designs in vinyl, I always measure the surface I'm applying the vinyl to. While I could just eyeball it, I've made mistakes too many times, that I find it beneficial to take an extra 30 seconds to measure. This enamel signs is about 3.5 inches tall and 8.5 inches long.
Size your designs in the cutting machine software. Cut the joyeux noël using the black polished metal adhesive vinyl. Weed the vinyl and use the clear gridded transfer tape to lift the design from the backing. The clear grid on the transfer tape is essential for me to get my design straight on to the sign.
For the holly, cut out two sprigs in the black polished metal, the green ultra metallic glitter and the bright green and red luster vinyls. Weed out the insides from the black holly and use the transfer tape to pick it off the backing. Take an inside of the green glitter holly leaf and place the leaf inside the black vinyl holly outline, continue to do this until the black outline is filled. Put the design on to the sign. Repeat with the second one, putting it on the other side of the design, smoothing the designs on with the blue felt squeegee.
The enamel sign has little holes for hanging. Use a white paint pen to disguise the heads of the nails after hanging. Enjoy your creation!
More Christmas Ornament Crafts
Pin This For Later