Create this sweet winter tree snow globe ornament with foiled paper and stamps for a handmade Christmas.
I love all kinds of snow globe ornaments. They have been around for years, never seem to go out of style and offer a little glimpse of a pristine winter wonderland.
THIS POST CONTAINS AFFILIATE LINKS MEANING IF YOU CLICK ON ONE AND MAKE A PURCHASE, THIS BLOG MAY RECEIVE COMPENSATION, AT NO ADDITIONAL COST TO YOU. I AM PART OF THE RINEA DESIGN TEAM AND SOME PRODUCTS WERE PROVIDED FOR THIS POST. PLEASE SEE THE POLICY PAGE FOR FULL DISCLOSURE.
This winter tree snow globe ornament has flurries of little snowflakes falling in the background, and some icy looking snow that shakes around. The star of the ornament is the shiny emerald green tree, dotted with snow. The tree is made of Rinea Foiled Paper in Emerald Green/Gold Glossy and is stamped with a sweet tree from Crackerbox & Suzy.
Recommended Supplies
Clear Disc Ornament
White Pigment Ink
Fake snow or other ornament filler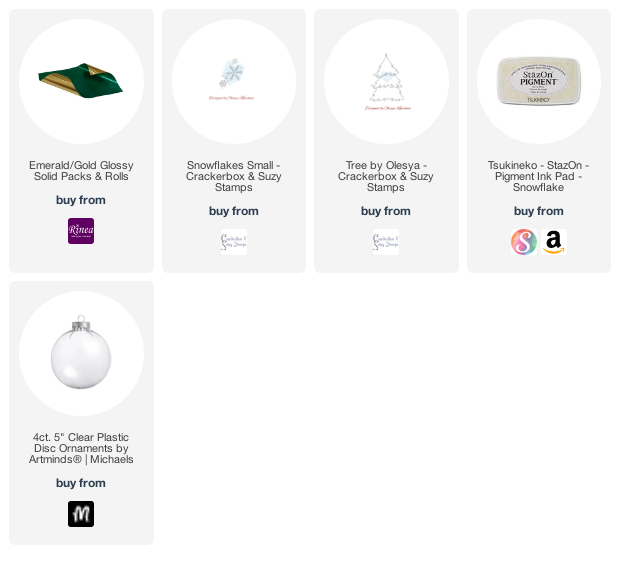 USE CODE SPARKLE TO SAVE 10% OFF OF YOUR RINEA FOILED PAPER ORDER.
Instructions
Clean off the ornament and make sure there are no fingerprints or oils on it. Place the Small Snowflake stamp side up on a flat surface. Use the pigment ink and ink up the surface of the stamp. Carefully, place the disc ornament on the stamp and roll it across the surface of the stamp. It takes a couple of tries to get the technique right and not have smudges, but the ink will wipe off while it is still wet. Fill up the one side full of snowflakes, this will be the back side of the ornament.
Then, take the Rinea Foiled Emerald/Gold Glossy Paper, and stamp the tree on to it using the white pigment ink. Fussy cut around the tree and then stamp the gold side as well.
Use a tiny bit of tape or adhesive to put at the very bottom of the tree cut out, ant then roll the tree so that it will fit inside of the ornament opening. Once the tree is inside, use tweezers or a chopstick or something long to flatten out the tree and to get the bottom stuck into place.
Once the tree is in place, add your filler so that it covers the bottom of the tree. Fake snow is fun, so is glitter and sequins. My filler looks like icy broken glass. Get creative. Then replace the top and enjoy your ornament!