Create these rolled foiled paper roses for topping gifts or for easy Valentine's Day decor. Make a bunch and create a paper flower bouquet!
With Valentine's Day coming up, I figured some shiny paper roses would be a great way to top a sweet little gift. These foiled paper roses come together in just minutes and are quite striking in a group.
THIS POST CONTAINS AFFILIATE LINKS MEANING IF YOU CLICK ON ONE AND MAKE A PURCHASE, THIS BLOG MAY RECEIVE COMPENSATION, AT NO ADDITIONAL COST TO YOU. I AM PART OF THE RINEA DESIGN TEAM AND SOME PRODUCTS WERE PROVIDED FOR THIS POST. PLEASE SEE THE POLICY PAGE FOR FULL DISCLOSURE.
The Love Variety Foiled Paper pack from Rinea is perfect for these flowers! I'm a huge fan of the glossy foiled papers, but the ones with the star texture are darling as well.
Rolled Foiled Paper Roses Supplies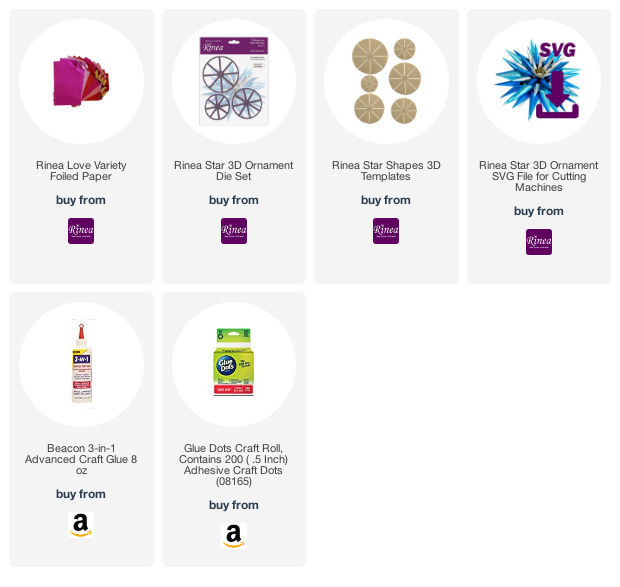 USE CODE SPARKLE TO SAVE 10% OFF OF YOUR RINEA FOILED PAPER ORDER.
Rinea 3D Rolled Star Die Set (or SVG, or templates)
Adhesive (I use Beacon 3-in-1 Craft Glue but Glue Dots or a Hot Glue Gun would be perfect!)
A smooth, round pencil or other round object for rolling the petals
Directions
Cut out various sizes and colors using the 3D ornament die set and a die cutting machine (or use the SVG with your electronic cutting machine.)
Start with the larger die cuts first. Take your smooth sided pencil or pen, and roll a petal towards the center.
Make your way all the way around the circle, rolling all the petals.
With a smaller die cut, either the same or a different color, roll the petals the same way. I like to make the smaller rolls a bit tighter.
Using just a dot of glue, adhere the smaller rolled petals to the inside of the larger rolled petals. It helps to use the eraser of a pencil to hold the foiled paper down until the glue dries a bit.
Cut out some leaves or other foliage to finish the roses!
These rolled foiled paper roses are so easy to make! They are a bit fragile, so keep that in mind when you use them. The foiled paper is perfect for this craft because it holds the curl of the roses so well! Happy crafting!