Make this sweet Cherry Blossom Card using foiled paper, stencils and Distress Sprays.
Cherry blossoms used to be my favorite part of spring. The trees are a beautiful pink and it looked like pink snow when the petals fell to the ground. Now that I live in the desert, I don't get the pleasure of pink cherry blossom snow, but this card brings back the good memories.
THIS POST CONTAINS AFFILIATE LINKS MEANING IF YOU CLICK ON ONE AND MAKE A PURCHASE, THIS BLOG MAY RECEIVE COMPENSATION, AT NO ADDITIONAL COST TO YOU. I AM PART OF THE RINEA DESIGN TEAM AND SOME PRODUCTS WERE PROVIDED FOR THIS POST. PLEASE SEE THE POLICY PAGE FOR FULL DISCLOSURE.
SUPPLIES
USE CODE SPARKLE TO SAVE 10% OFF OF YOUR RINEA FOILED PAPER ORDER.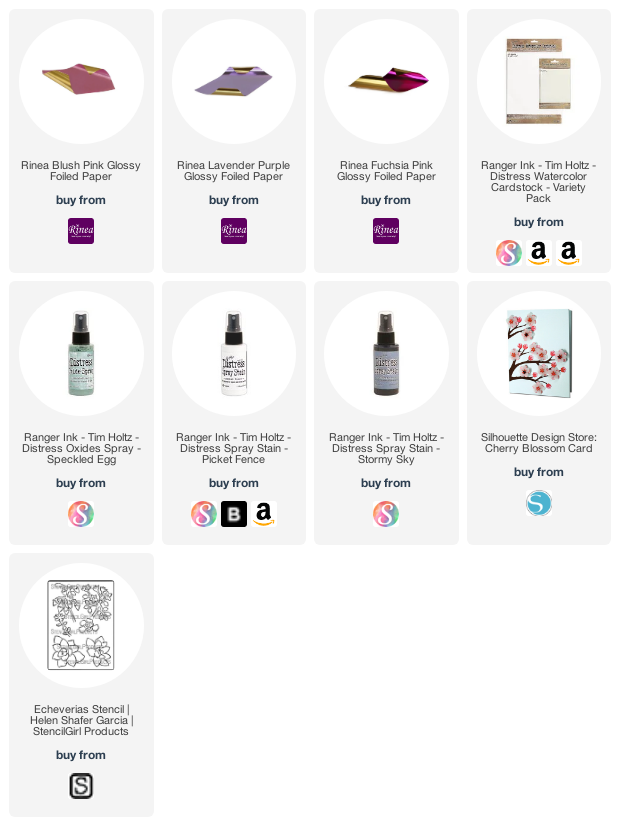 INSTRUCTIONS
Spray the watercolor card stock with both the Speckled Egg and Stormy Sky Distress Sprays, then set aside to dry. While that is drying, use your cutting machine to cut out the pieces for the cherry blossoms. Cut out half of the flowers and all the buds in Rinea Blush Pink Glossy Foiled Paper and the other half in Rinea Lavender Purple Glossy Foiled Paper. The centers of the flowers are in Rinea Fuchsia Pink Glossy Foiled Paper.
Additionally, cut out the tree branches. I used vintage music sheet scrapbook paper for the branches to add some interest.
Once the blue inks are dry on the watercolor card stock, lay a stencil on it and lightly spray the Picket Fence Distress Stain on the stencil. Let dry.
Once the watercolor card stock is dry, glue on the branches. Since the Distress Inks react to water, I applied the glue to the back of the branches with a paint brush. Attach to the card. Glue on the cherry blossom buds and flowers, alternating having the pink and the purple on top.