You'll laugh a little (or cry) on the inside when you make this I Have No Idea What I'm Doing DIY sticker out of adhesive vinyl. Add to the inside of your notebook or to your water bottle to lighten things up a little!
I went back to work after four years of staying at home and boy is there a learning curve! It's not hard and it's familiar, but it's a different role, and way different than being a stay at home soccer mom. While I'm joking about how I feel like I don't know what I'm doing, it feels so good to be working again. I didn't realized how much I missed it.
When I was looking through the Silhouette Design Store, I saw this 'I have no idea what I'm doing' design from Lifestyle Crafts and it made me laugh. I feel that right now. I decided it would be fun to make a glittery sticker in happy colors that I could stick on the inside of my notebook, so that only I would see it.
As part of the StyleTech Craft 2021 -2023 design team, this post has been sponsored by Styletech Craft. Compensation and product have been provided to me for the purpose of this post. This post also contains affiliate links, meaning that I might receive a small commission if you click on a link and purchase, at no cost to you. All ideas and opinions are all my own.
Supplies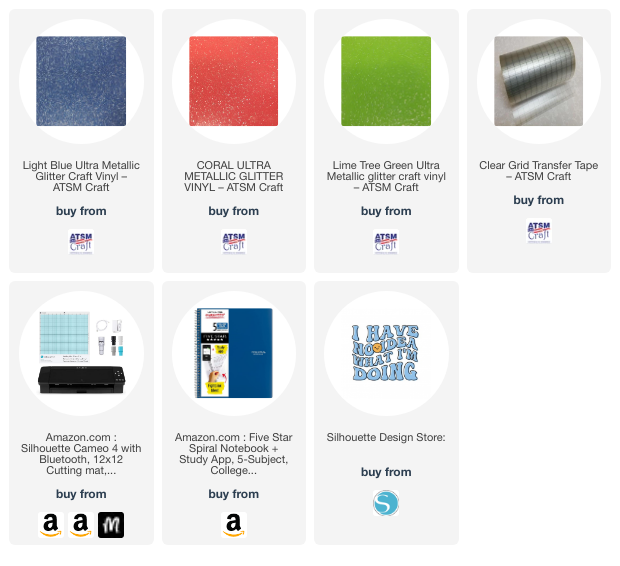 Instructions
Download the design into the software for your electronic cutting machine.
Resize the design to the size that you desire.
Ungroup the design and copy and paste the design elements by the desired color. I make a page for coral, a page for blue and a page for the yellow.
Cut out the design elements in each color.
Weed the designs using the weeding tool.
Use the gridded transfer tape to adhere each layer individually to your notebook.
Use a scraper or credit card to ensure the adhesive vinyl is really adhered.
Enjoy your sticker!