Stay hydrated in the heat with this color changing summer drink cup, decorated with vinyl that changes color when exposed to sunlight!
With summer fast approaching, I wanted to make myself a summer cup. You know, that cup that you use all summer long that your fill and refill with your favorite hydration beverage? No, just me. Well, this year I discovered lemonade. We all know I didn't discover it, but I only recently started enjoying it. I have been adding tasty things like basil and other flavors to make it amazing. More on that later.
I found these color changing cups at Starbucks. While in a perfect world, they wouldn't have had a logo all over them, but that's what I had. Luckily for you, I found the same cups without the logo online. (They are linked below.) What's better than color changing cups that change with temperature, decorated with color changing adhesive vinyl that changes when in the sunlight? Lemonade, that the only thing that's better.
As part of the StyleTech Craft 2021 -2023 design team, this post has been sponsored by Styletech Craft. Compensation and product have been provided to me for the purpose of this post. This post also contains affiliate links, meaning that I might receive a small commission if you click on a link and purchase, at no cost to you. All ideas and opinions are all my own.
Supplies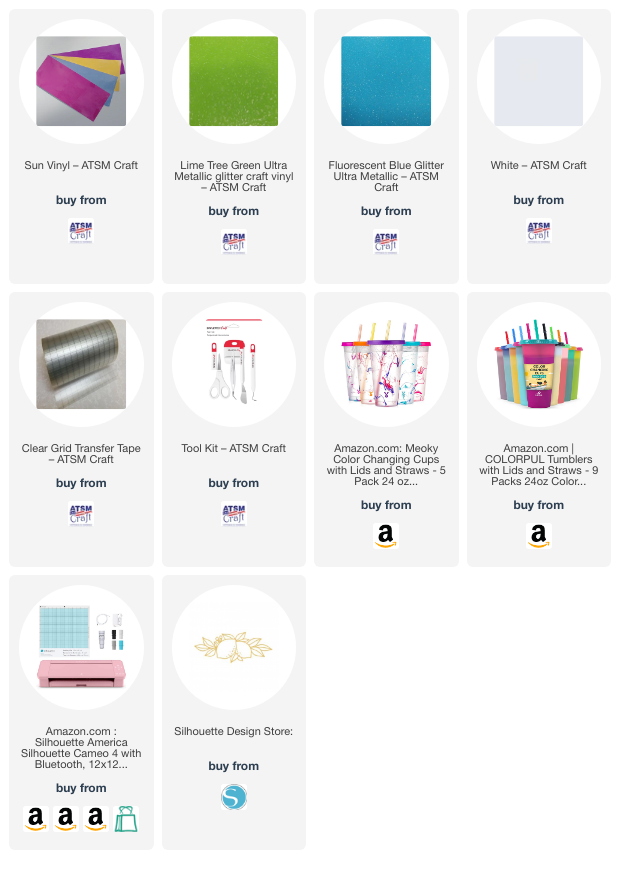 Instructions
Download the lemon design to your electric craft cutting software and resize it to fit your cup.
Cut out the design in your chose colors, and weed out what parts you that are needed. I like to cut out the whole design in each color and then mix and match the parts to create more than one design.
Optional* I created a two inch in diameter circle in white adhesive vinyl to cover the logo on my color-changing cup.
Using the outline of the design as a guide (green vinyl in the photo) fill in the design with the vinyl cut outs from the other colors.
Use the gridded transfer tape to adhere design to your cup.
Drink all the lemonade!
More Adhesive Vinyl Crafts