Create these adorable Christmas cocoa gift tags, which are perfect for holiday gift giving.
It is super fun to get a hot cocoa gift basket left at your door during the holidays, and it's also a great neighbor gift! All you need is some hot cocoa and the fixings! You know, marshmallows, maybe a can of whipped cream, some flavored syrup, sprinkles…you have the idea!
THIS POST CONTAINS AFFILIATE LINKS MEANING IF YOU CLICK ON ONE AND MAKE A PURCHASE, THIS BLOG MAY RECEIVE COMPENSATION, AT NO ADDITIONAL COST TO YOU. I AM PART OF THE RINEA DESIGN TEAM AND SOME PRODUCTS WERE PROVIDED FOR THIS POST. PLEASE SEE THE POLICY PAGE FOR FULL DISCLOSURE.
And of course you need a darling gift tag to add some trim to your surprise! I used some Rinea foiled paper and stamps from Joy Clair Designs to make these tags.
USE CODE SPARKLE TO SAVE 10% OFF OF YOUR RINEA FOILED PAPER ORDER.
SUPPLIES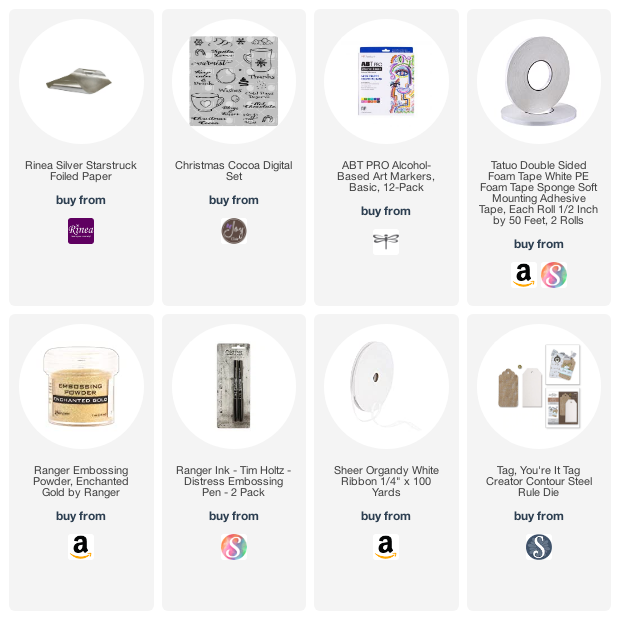 First, I took some Rinea Silver/Silver Starstruck Foiled Paper and stamped it with the Joy Clair Christmas Lights background stamp (no longer available), then lightly embossed the paper with gold embossing powder. (Be careful not to heat up the foiled paper too much!) To add color, I colored in the lights different colors. Affix the stamped foiled paper to a card stock tag, covering the entire tag and trim.
The Christmas Cocoa Digital Stamps from Joy Clair were super fun and easy to use. You can either print them out on card stock and cut them out manually, or trace and manipulate them in a software program and cut them out with your craft cutter.
Although there are programs to digitally color the digital stamps, I chose to use my markers and my embossing pen and gold embossing powder. Once colored and embossed, I just adhered them to the Christmas lights background. After every thing was in just the right spot, I punched the hole and strung some ribbon.
These tags are going to be so cute on my neighbor gifts for the upcoming holidays!