Get ready for St. Patrick's Day with this textured shamrock gift tag with a pot of gold and some sweet gold beads!
St. Patrick's Day is always so much fun. I love hiding a pot of gold (chocolate coins!) and giving sneaky hints on it's location to my three little leprechauns. This little textured shamrock gift tag is perfect for attaching to a pot of gold or other festive treasure!
THIS POST CONTAINS AFFILIATE LINKS MEANING IF YOU CLICK ON ONE AND MAKE A PURCHASE, THIS BLOG MAY RECEIVE COMPENSATION, AT NO ADDITIONAL COST TO YOU. I AM PART OF THE RINEA DESIGN TEAM AND SOME PRODUCTS WERE PROVIDED FOR THIS POST. PLEASE SEE THE POLICY PAGE FOR FULL DISCLOSURE.
USE CODE SPARKLE TO SAVE 10% OFF OF YOUR RINEA FOILED PAPER ORDER.
Shamrock Gift Tag Supplies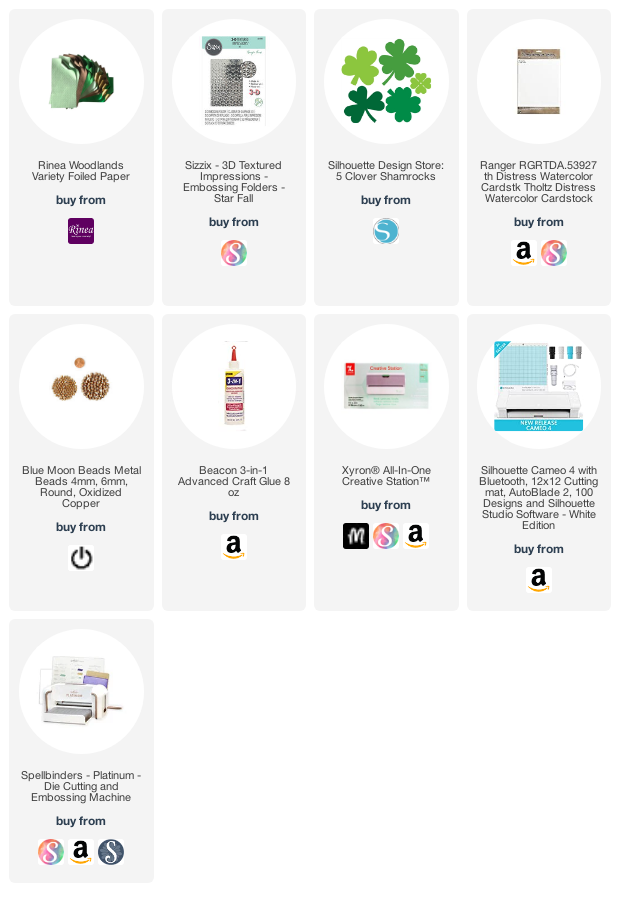 Watercolor Paper
Adhesive
Craft Cutting Machine
Embossing Folder
Manual Die Cutting Machine
Craft Glue
Gold Beads
Ribbon
INSTRUCTIONS
In the design software for your electronic craft cutting machine, size the four leaf clover to approximately 4 inches. Highlight it and use the software to create an outline of the image using the offset tool, at least 0.125 bigger than the image. Separate the offset from the four-leaf clover. Cut out two of the offsets using the watercolor paper. This will create the background.
Using the Rinea Woodlands Foiled Paper Variety Pack, cut out the four leaf clover, shamrocks and pot-of-gold in your preferred colors using the craft cutting machine on vellum setting.
To adhere the whole shamrock together, I use the Creative Station, so that I can peel and layer the pieces like stickers, but any glue will work. If you are adding a ribbon, for hanging, adhere it between the two layers of watercolor paper.
Layer the large four-leaf clover down onto the watercolor paper backing, then place the shamrock and brown pot. Before placing the gold on the pot, use the craft glue to adhere the gold beads in place. Just use a dot of glue for each bead. Let dry before adhering it on to the pot-of-gold.