Create this beautiful, and super easy, painted wood bead garland for your holiday decor!
Wood bead garlands seem to be everywhere this holiday season. I had set out to purchase one and I was kind of disappointed that they cost as much as they did and that they weren't very long. I figured it would be much cheaper to make the garland. Plus, then I could pick my own colors!
THIS POST CONTAINS AFFILIATE LINKS MEANING IF YOU CLICK ON ONE AND MAKE A PURCHASE, THIS BLOG MAY RECEIVE COMPENSATION, AT NO ADDITIONAL COST TO YOU. PLEASE SEE THE POLICY PAGE FOR FULL DISCLOSURE.
Recommended Supplies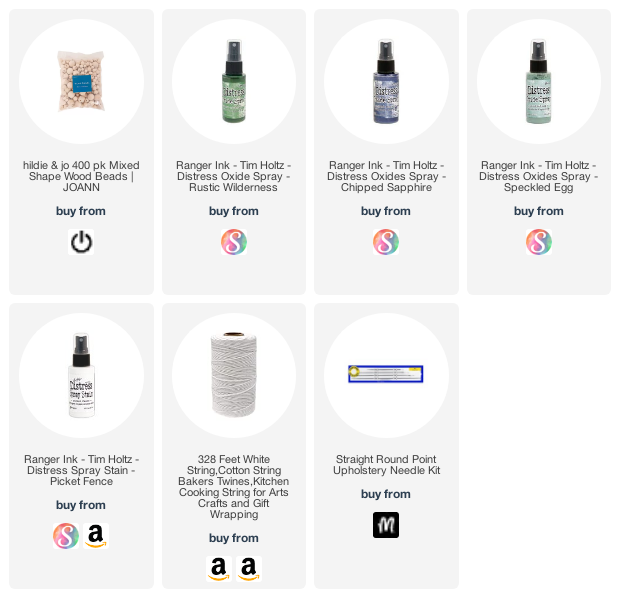 Wood Bead Garland Instructions
I have fallen in love with the Distress Oxide Sprays. They have a chalky appearance and are easy to apply. The Distress Oxide Sprays are water reactive, even when dry. This can be good or bad, depending on what you are making. A water droplet on the paint makes a great effect. You can see that on my Planner Cover. If you are concerned that the beads might get wet, it would be wise to seal them with a matte sealing spray after painting.
I found that the easiest way to paint the beads in bulk is to string them on a skewer and spray them with paint. I suggest wearing a glove so that you don't get paint all over them. You will need to turn the skewer to insure you get all the beads. Then, lean the skewer up against the side of the box and let it dry. Repeat this process with all the beads.
Once all the beads are painted and dried, it's time to string them. The fun part of this process is figuring out patterns. With the package of wooden beads that I bought there are some 14-sided shapes (also called tetradecagons) but not as many as the other sizes of round beads. So they were spaced out between the round beads. The patterns turned out perfectly after a couple of tries.
I used a nylon crochet string and a long upholstery needle to string the beads. Pick your first bead and tie a knot around it, with about six feet (or more) of string for beading. Once you have all the beads strung, tie the end just like at the beginning. If you are super fancy add some tassels!