Create this sweet little cherries bag tag using adhesive vinyl and a thick lamination for a back pack or lunch bag.
Back to school season is here and I for one am thrilled about it! My littlest is going into first grade and she picked out the cutest new lunch bag that's pink with cherries on it. Since she got the lunch bag, she had been looking everywhere for a charm or bag tag with cherries to clip on to it. Since she didn't find anything she loved, I promised that I would make her a bag tag with her name on the back that she could clip to her lunch bag.
As part of the StyleTech Craft 2021 -2023 design team, this post has been sponsored by Styletech Craft. Compensation and product have been provided to me for the purpose of this post. This post also contains affiliate links, meaning that I might receive a small commission if you click on a link and purchase, at no cost to you. All ideas and opinions are all my own.
I let her choose the vinyl, and of course she chose the Red Ultra Metallic Glitter vinyl for the cherries. I don't blame her, since the is one of my favorite vinyls to work with and look at! I also used the Tim Holtz Ranger Watercolor Cardstock for the background. It's thick and really the only watercolor paper that I've found that is pure white.
Lastly, I used a thick 10 mil laminating pouch to laminate the tag. The laminator I have is really only meant to work with 3 mil an 5 mil laminating sheets, but I have used it with the 10 mil multiple times with success. I used it for a couple of my planner covers, and they are still holding strong. I use the hot setting on the laminator and let it heat up for a while, then run the project through it multiple times to make sure it's well adhered to itself.
Supplies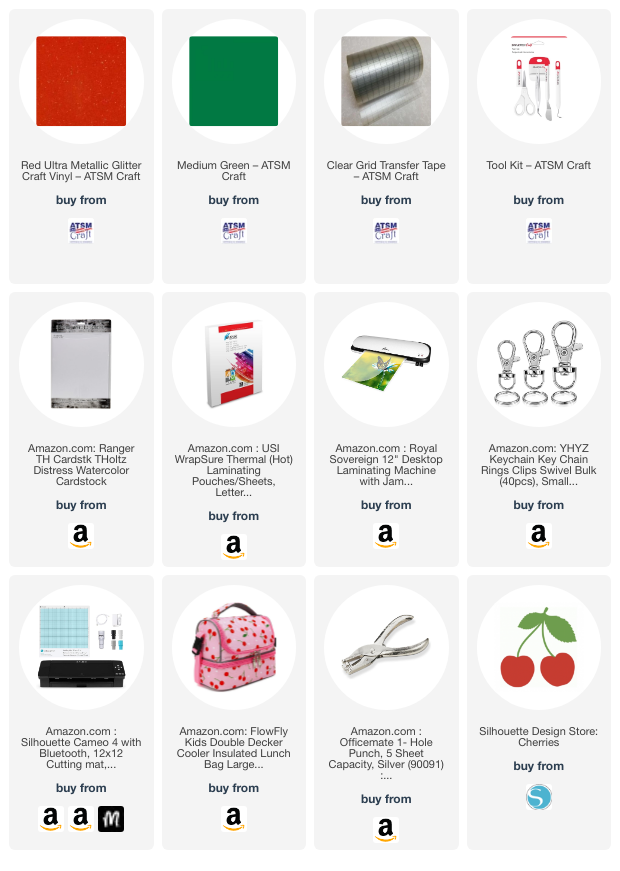 Instructions
Download the design into your craft cutter software and resize it to size you need. For a bag tag, I kept it under 3 inches wide. Create an outline, which will be the watercolor paper background. Delete the points in the middle of the background so that the whole background is solid.
Cut out the designs for the watercolor paper background, cherries and stems.
On the back of the watercolor paper, add the name, either in handwriting or cut it out in vinyl.
Put the tag inside of the laminating pouch and laminate it. Run it through the laminating machine a few time.
Cut the excess lamination off and punch a hole at the top and add your key ring clip.
Clip it on your favorite bag or lunchbox and enjoy!
More Adhesive Vinyl Crafts